News
---
EMS recognised as an Investor in People

EMS has been awarded silver accreditation against the Investors in People Standard, demonstrating their commitment to high performance through good people management.
EMS was established in October 2014 to provide management services to a portfolio of healthcare and education projects and now employs over 50 people across offices in London, Manchester, Glasgow, Nottingham and Yorkshire with a broad market experience covering street lighting, leisure, social housing, waste and renewables and student accommodation projects.

Investors in People is the international standard for people management, defining what it takes to lead, support and manage people effectively to achieve sustainable results. Underpinning the Standard is the Investors in People framework, reflecting the latest workplace trends, essential skills and effective structures required to outperform in any industry. Investors in People enables organisations to benchmark against the best in the business on an international scale.

Paul Devoy, Head of Investors in People, said: "We'd like to congratulate EMS, Investors in People accreditation is the sign of a great employer, an outperforming place to work and a clear commitment to success. EMS should be extremely proud of their achievement."

Commenting on the award, Neil Springett, Managing Director of EMS, said: "This is a fantastic achievement for our first time going through the assessment and is a great testament to the effort and positive attitude of our staff. What shone through the report is the references to teamwork and collaboration, enthusiasm, and willingness to 'go the extra mile' for the company."

For more information about Investors in People please visit www.investorsinpeople.com

---
EMS launches LIFT JV

EMS is delighted to announce the commencement of six new management services contracts, with effect from 1st April 2018, with Local Improvement Finance Trusts in Greater Nottingham, North Nottinghamshire, South Derbyshire, Leicester, Barnsley and Doncaster.
The services will be delivered via a joint venture with Community Ventures Management Ltd (CVM), a specialist services provider in the LIFT sector, under the umbrella of EMS Community Ventures Ltd (ECV).
CVM has a wealth of health and social care experience and a successful track record of delivering high quality partnering services to the NHS and other LIFT stakeholders across strategic estates planning and development of improvement schemes.
EMS will focus on its core strengths in estates and financial management, drawing on its breadth of experience across a wide ranging and diverse portfolio and providing ECV with the bandwidth and geographical reach to deliver consistent high-quality service to our partners.
ECV will be operating with the addition of two new offices in Nottingham and South Yorkshire to provide local support to the additional LIFT company areas.
The six LIFTs encompass 46 health centres with an aggregate floor area of 131,000 square metres and a capital value of £325 million. The health centres are owned through 13 project companies and have been partly financed by bank debt currently standing at £265 million.
As part of the transfer of contracts EMS is pleased to be welcoming 11 new members of staff to our team. We look forward to taking this exciting next step in the development of the EMS business.
---
Handover at William McIlvanney Campus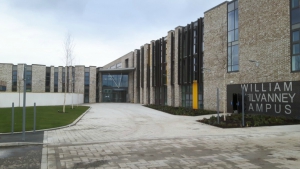 EMS has completed another successful construction management role for hub South West Scotland following the handover of the £45m William McIlvanney Campus. The project has seen the merging of two secondary schools (James Hamilton & Kilmarnock Academy), two primary schools (Silverwood Primary and New Farm Primary) and also incorporates an early childhood centre and a centre of excellence for the Gaelic language. In total the school will accommodate over 2,000 pupils.
The new Campus will be maintained over a 25 year period by hub SW EALC DBFM Co Limited, a Special Purpose Vehicle (SPV) which will continue to be managed by EMS.
The close collaborative working relationship from all parties including East Ayrshire Council, hub South West Scotland, EMS, Kier Construction, FES FM, Nord LB and the various school & community stakeholders who worked on the project over the past 3 years has been testament to its success.
---
Manchester expansion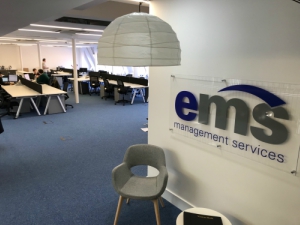 We're pleased to have completed the refurbishment and fit out of our expanded Manchester office after signing the lease on the adjacent vacated unit at Sevendale House, doubling the size of our existing premises.
The new office provides desk space for up to 22 staff, kitchen and breakout area and two meeting rooms. The additional capacity demonstrates EMS' commitment to growing our regional offices and providing localised support to the assets under our management as well as enabling the alignment of the operational and finance functions.
---
Largs Campus reaches completion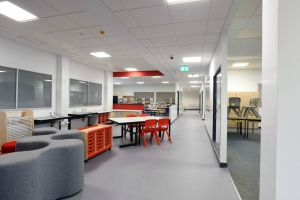 The new Largs Campus is set to welcome pupils on 12th March 2018 following successful handover on 5th March. EMS have been managing all aspects of construction delivery on behalf of DBFM Co since Financial Close and will now continue into the 25 year operational phase as well as delivering the demolition of the existing Largs Academy and Kelburn Primary by the end of 2018. This project was delivered on time and on budget for North Ayrshire Council and is the largest educational project ever procured by this Authority, with a capex of £44m and capacity for over 2000 pupils. 
In partnership with the Authority, Morrison Construction as Building contractor and FES FM as Service Provider, many project challenges were overcome which included a shortened 21 month construction programme, assisting the Authority with variations and project specific amendments as well as achieving handover days after the largest snowfall to fall in this part of the country for a number of years. EMS has operated a professional, open, collaborative and transparent management approach appreciated by all stakeholders which has undoubtedly been a fundamental contributing factor to this successful project. 

In addition, EMS has led a very successful and  detailed "Countdown to Handover" structured process (6 months) of presentation, training and hands on practical demonstration to manage the process from construction into operations for all key stakeholders and Authority employees. This has ensured a smooth transition with excellent working relationships established.

---

Key information on all our assets

Introducing the people behind EMS